Finding the perfect gift for that special someone is the best feeling. Celebrate the lovely people in your life with this easy gift guide! We are here to help you when it comes to picking the best birthday gift for her, him, the kids, and even your pets!  
Nothing says happy birthday like a personalized gift! Make your loved ones feel appreciated on their special day with a custom and heartfelt present that they will never forget.  
Gifts for Her
There are so many lovely ladies in your life and we know that you want each of them to feel extra special on their birthday! Celebrate mom, grandma, sister, wife or friend with these exquisite gifts! By customizing each gift, she can both indulge in her cravings and see how much you care! 
Personalized "Happy Birthday" Wine 
Birthdays are a great excuse to let your hair down and enjoy yourself, and what better way to do so than with a bottle of wine? Go a step further for that special lady in your life and buy a Personalized Wine Bottle that they can cherish for years to come! 
Personalized Wine Glass 
Compliment your personalized wine bottle with a Personalized Wine Glass, which makes for a great birthday gift. Give her the gift of becoming a wine connoisseur with this unique glass, and you can even buy a nice basket to display the wine bottle and glass together to present the whole gift in the best way! 
Be sure to check out or Gifts for Her collection for more delightful birthday gift ideas for ladies!  
Gifts for Him

 
Make the men in your life feel amazing on their special day with these great gifts. You can make any gift for dad, grandpa, brother, husband, or friend unique by personalizing it! Use these ideas to create the perfect gift for the perfect guy! 
Personalized Beer Caddy w/ Bottle Opener 
This Personalized Beer Caddy will serve as an awesome birthday gift for all the beer lovers in your life! Whether you are going to a party, hanging down by the pool, or even relaxing in your living room, you can now transport your favorite 6 pack in a trendy and eye-catching way.  This is a must–have gift for any beer connoisseur in your life! 
Personalized Deluxe Camouflage Cooler Seat
For your guys who love spending time outdoors, a personalized Deluxe Camouflage Cooler Seat is just the ticket! This portable cooler holds up to 12 drinks that he can enjoy with you and his friends whether they are tailgating, camping, or relaxing at the beach. Not to mention the cooler also doubles as a portable seat. If you are looking for a functional gift for an outdoorsy man, look no further!  
For more functional and versatile gift ideas for the men in your life, check out our Gifts for Him collection!  
Gifts for Kids

 

 
Kids love to celebrate their birthday and we think it's safe to say nothing makes them happier than receiving presents. Here are some gift ideas for all the kids that light up your life. We know they will be glowing when they see their name on the gift they open.  
Personalized Piggy Bank

 
Help your child make savings fun with this Personalized Jungle Jack Piggy Bank. It is one-of-a-kind and sure to please, making this piggy the best birthday gift for any and all children! 
Personalized Storybook
Make reading fun and entertaining for your kids with a Personalized Nursery Rhymes Storybook. Nothing will grab a child's attention like seeing their very own name within this book. Our personalized storybook is 100% unique and a wonderful present for any baby, toddler or child.  For more wonderful kids birthday gift ideas check out our Gifts for Kids collection.
Gifts for Pet

s

 
It is only right to show your furry friend appreciation on their birthday too! They are man's best friend, and that's how we know they feel your love from these custom gifts.
Personalized Cheerful Chevron Large Dog Bowl
You named them, and they've loved you ever since. Celebrate their special day with a personalized bowl. Put water, food, or even treats in here on their birthday to celebrate the day they made your life even better! 
Personalized 

White Dog Bandana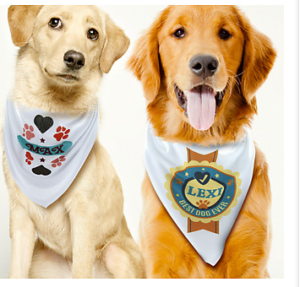 Match your pet with these stylish bandanas! Whether it is cold out or just for fashion, we know a fun personalized bandana will surely please your four-legged friend! 
Your furry friends are sure to love these gifts – almost as much as they love you! For more birthday gift ideas, check out our Pets Gift collection. 
To see more one-of-a -kind birthday gifts check out our Birthday Collection! We at Personalization Universe hope we have made gift giving a little bit easier with these unique and custom ideas. Happy shopping & Happy Birthday!